IPMS/UK
National Convention - Scale ModelWorld 2016

Where:

Telford International Center, Shropshire, UK.
When:

August 12-13, 2016

Who:

Southern Modelers Express Machine (

actually your editor acting wingman of Sandro Tomasetto

)
The Show
And a great show, I must add.

I headed to Telford with my good friend Sandro, not only thinking on the Scale ModelWorld, mind you, but also in visiting so many museums the British land has to offer to any enthusiast. Stay tuned for new walkrounds here. Meanwhile, the goal of this report is to show you a glimpse of one of the largest modeling events in the world. The show had all three halls of the Telford International Center crammed with traders, club displays, kit swaps and everything a modeler would expect from a hobby heaven.
We were blessed by the opportunity of wandering by the halls of TIC on Friday, before the official opening, and of course hauling some new releases first than the horde of modelers who invaded the place on Saturday. We spent the whole Saturday visiting as many traders and club stands as possible, and on Sunday we could check the competition area less hungry for goodies...
By one side, I was really impressed by the number of traders, IPMS branches and SIGs. On the other hand, I was a bit disappointed by the number of entries in the competition. I dare to claim that the SIG tables displayed many more models than the competition tables, and in many cases, more interesting ones, too. Anyway, the felling of being in the middle of the main halls, with all those club stands mixed with the traders is formidable. More than 180 traders and 160 club displays is a tad too much for me, it seems. After initial helpless moments, my brain needed some time to focus on what I was doing there. You know the feeling. Before proceeding to the models in the competition area, I'll leave you with some photos of the messy heaven. Of course I couldn't take pictures of everything, I'll just highlight some things that are still fresh in my mind. Several traditional vendors attended the show, as expected, as well as famous and not so famous manufacturers.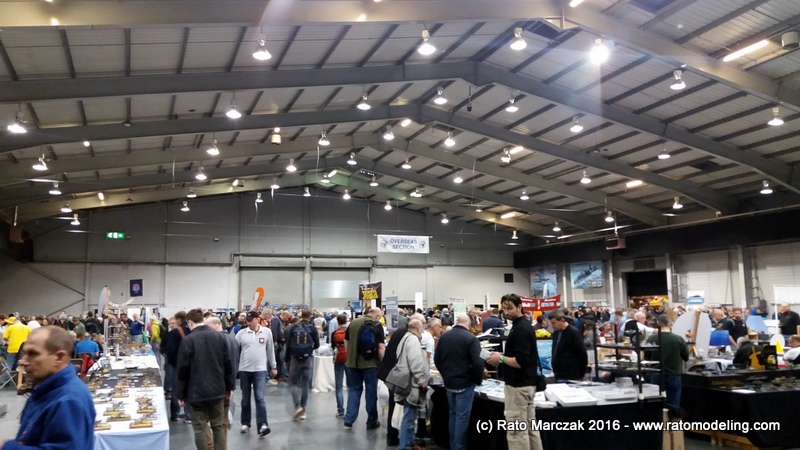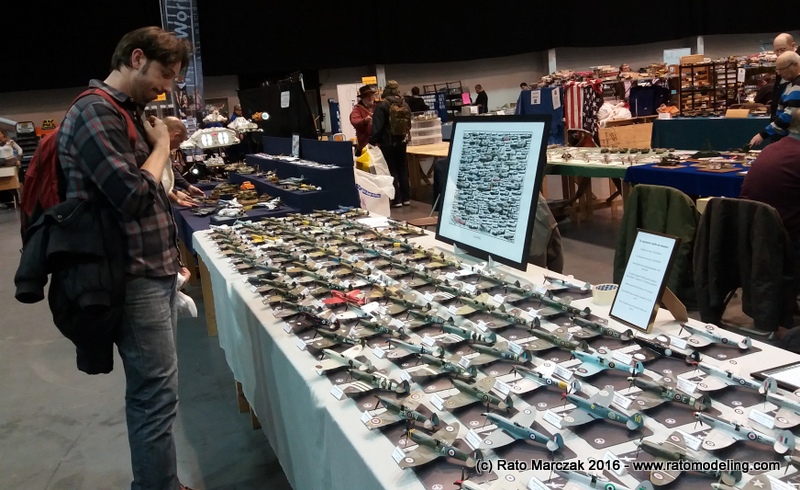 Meng was there with their new P-51, HMS Rodney and the USS Lexington. Armourfast blew my mind with so many small scale AFVs. I could check LVM Studios beautiful line os space models, and GasPatch was showing the sprues of their new 1/48 Salmson, plus countless accessories. Special Hobby brought their whole catalogue, as Eduard and CMK did. A big highlight was HpH stand, where we could check their large models, including their 1/48 B-36 and the XB-70. Their 1/32 offerings were displayed there too, like the Catalina, Walrus, Ta-154 and the new Helldiver - a fantastic achievement.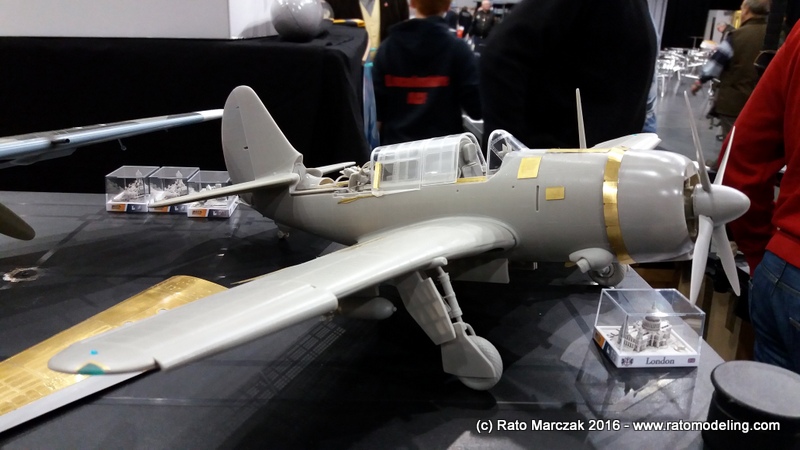 Zoukei-Mura was announcing their brand new 1/32 Ki-45 and the Henshel He-129, with the test shots on the tables. We could see the new 1/48 F-4S Phantom as well. HK Models was another hit, with the 1/32 Lancaster and the Ju-52 hitting the shelves soon. They were selling the new 1/32 B-17E/F as well, and showed what seemed to be a Manchester in 1/32 scale. Revell displayed their new stars, the Iron Maiden's 747 in 1/144, the fantastic Flower Class corvette in 1/144 scale and the sprues of the new Me-262B nightfighter recently released, as well as a few new cars.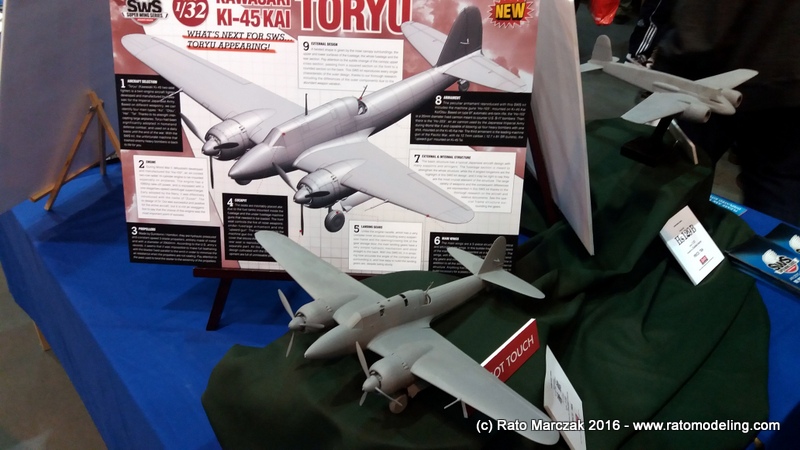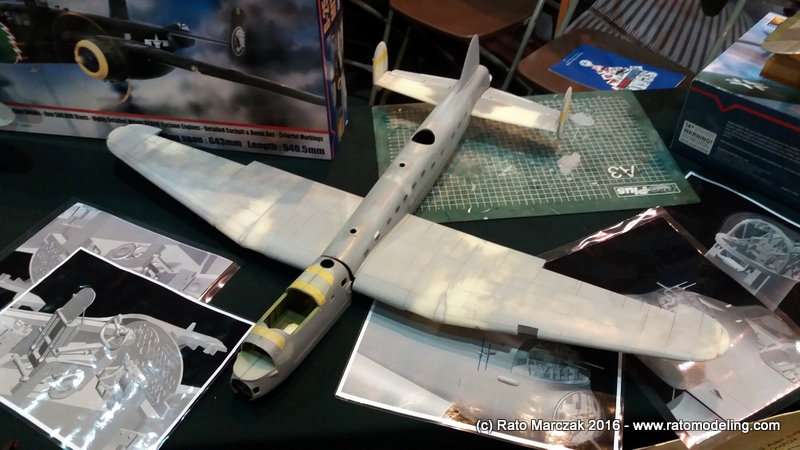 IconicAir surprised me with an injection molded Supermarine Spitful in 1/32 scale. MasterClub also seem to have brought their whole catalogue of link by link tracks, and Mirror models debuted several new items, including the new Army tractor and the Caterpillar recovery D4, both in 1/35 scale. Airscale was there, including the owner Peter, who had to take turns between his stand and Large Scale Planes SIG, where I could check his wonderful 1/24 scale F7F and Spitfire fully skinned in Aluminum - a work of art!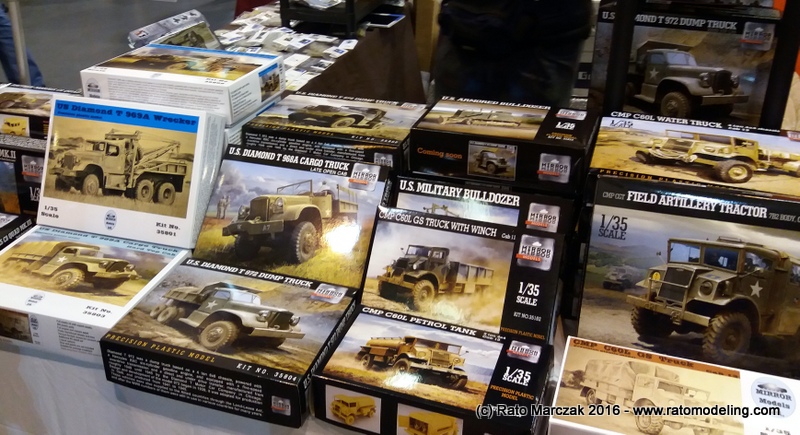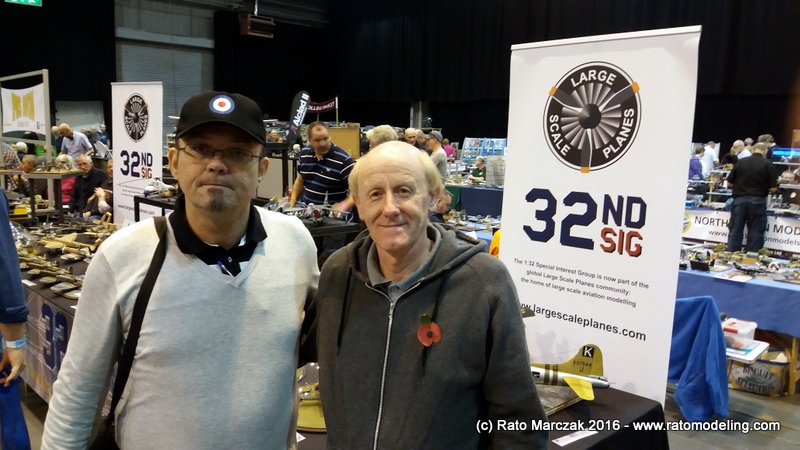 Airfix couldn't miss the show, and had a huge display of their latest releases: 1/72 Whitley and HP Victor and the 1/48 P-40. I was also delighted to visit Luke Graph stand, where I could finally grab my all resin Boeing F3B in 1/32 scale. They were displaying several of their 1/32 military bipes from the 30's, including a test shot of their Focke Wulf Fw-56 in 1/32 scale. AZ Models was also present, and I didn't hesitate in replacing my tired Italeri OH-6 by their new one in 1/72 scale. Another nice surprise was the Whirlybird bench - the wait is over and now I finally have a decent Jolly Green Giant in 1/72. It seems that my Vietnam project will take off, at last. Well, there was so much more that I can't even remember.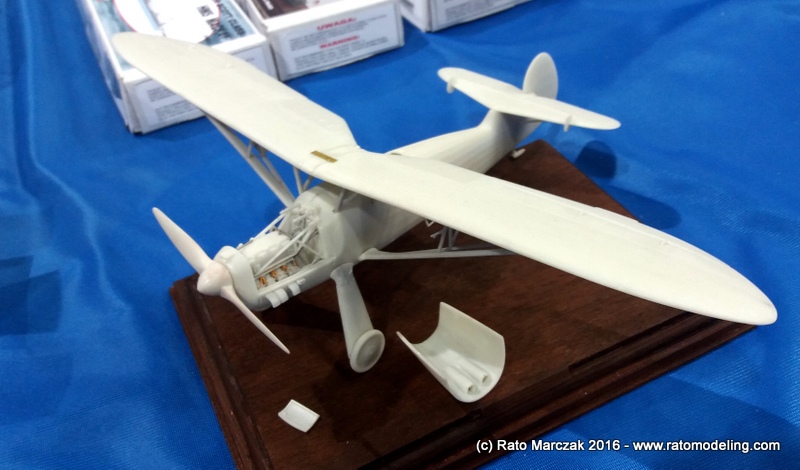 I must thank everybody for the warmth reception wherever we went. Talking to Roger and Dave from Whirlybird, Jay Laverty at Alclad (thank you very much for the Acqua Gloss sample), Peter and Ian at Large Scale Planes SIG (sorry, I missed the beer on Saturday night), Roy Sutherland at Barracuda, and the nice folks at HK Models. Also Spencer Pollard for a great chat on Sunday (congrats on your Harrier!). A special thanks to Mr. Arthur Bentley, with whom I had the chance to catch up after 5 years, and who generously presented me with a signed copy of the still in the works drawing of the Fw-190D-15. Good to meet you again so well, Arthur.
And Tony Horton and the staff members who helped me to solve the IPMS subscription issues in time. Finally, a big thank you to Sandro for leading the whole mission... You are the best, brother!
As for the competition, it was far smaller than I expected. I couldn't help myself and compare it to the IPMS-US. If I had to summarize it all in one statement, there were way less models than the US Nats, but then again, the American event doesn't even get close to SMW in terms of Clubs and IPMS branches participation. Technically, I found real gems on the tables, but many models with visible flaws in the main categories, particularly in the aircraft ones. Even among the class winners I identified glaring mistakes overlooked by the judges. The military vehicles categories were weak, at best. And please, some good soul must warn modelers that pigments are something to be used sparingly, cautiously, and criteriously!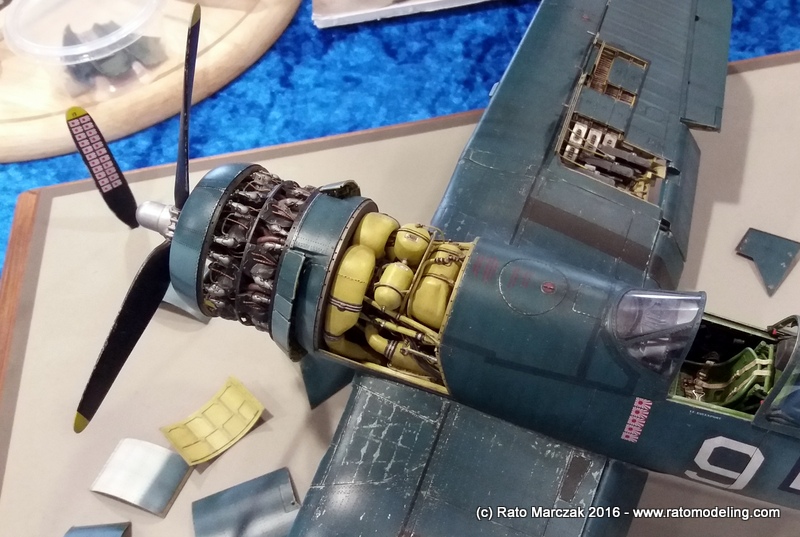 One thing that must be criticized is the decision of the judging teams for not relocating models in wrong categories to the correct ones. Maybe more strange were the numerous models in OOB categories which had the instructions missing and were deliberately disqualified, including what I think was the best propeller model in 1/32 scale. Good Lord, just let them slide to the closest non-OOB category... In most modeling events, the relocation of the model category is a judge's privilege, and helps to preserve the good models in the race, but IPMS-UK took the short path, no matter if disqualifying a better model than the winners... Something to rethink, seriously.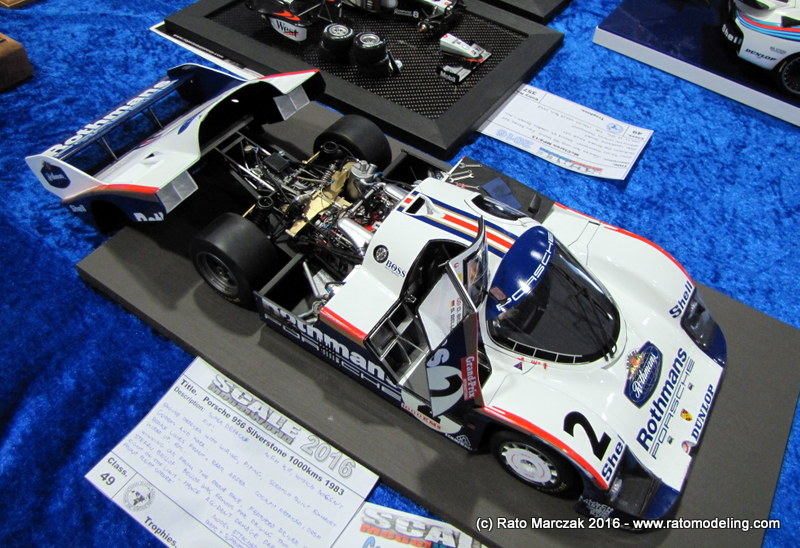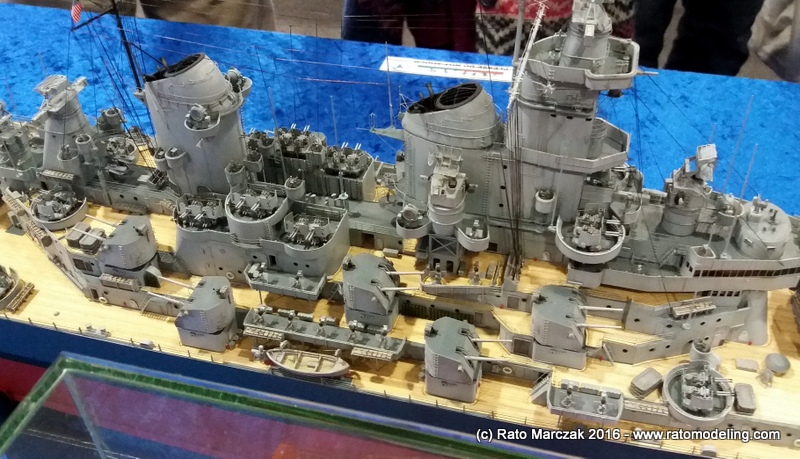 Now, the photos. I organized them in 9 groups, so be warned that all links below contain entries of several sub-categories. I corrected the brightness and sharpness of the worst ones. I also tried to avoid the use of flash light as much as possible in order to preserve the natural color of the models, but it was not always possible. Here you will find almost 600 photos, therefore I missed many entries. Enjoy:
Here is the
complete listing of the winners
from IPMS-UK site. National championships:
SENIOR NATIONAL CHAMPION: Ferrari 330 P4-2/TB (turbine engine) V/Stol - Daytona 1967 by Stefano Marchetti
JUNIOR NATIONAL CHAMPION: F6F-5 Hellcat by Pavlina Samalova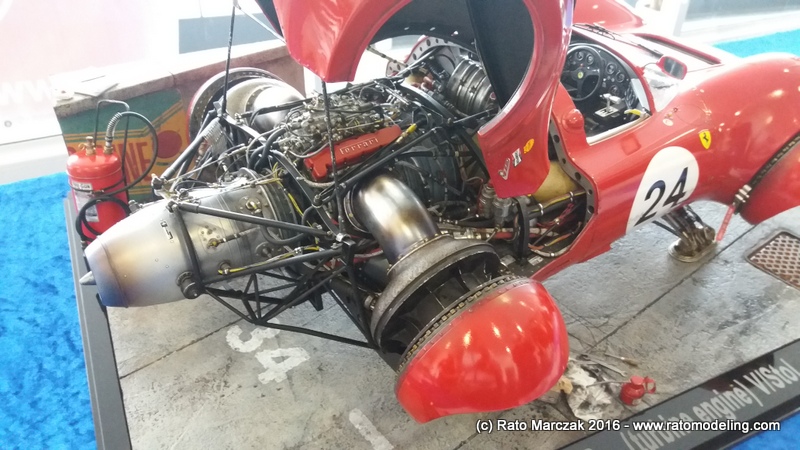 The main class winners were:
AIRCRAFT: Loire 130 by Juan Pedro Pujalte Sanchez
MILITARY VEHICLES: Caterpillar D7N by Stefan Pasztor
CIVILIAN VEHICLES: Toyota Supra Manga by Frederic Lemaire
FIGURES: Paolina Borghese by Graham Dixey
SHIPS: HMS Hood by Qzang Zhang
SPACE/SCI-FI/FANTASY: Ferrari 330 P4-2/TB (turbine engine) V/Stol - Daytona 1967 by Stefano Marchetti ]
DIORAMA: Logging and Tractor Repair Shed by Akos Szabo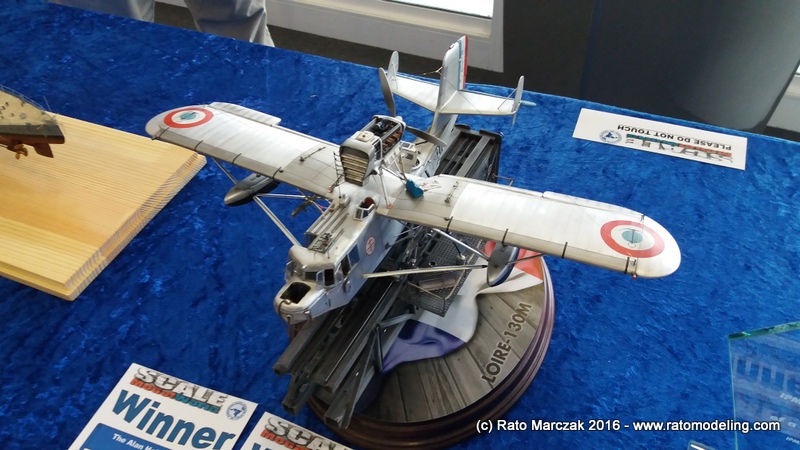 Congratulations to all in the IPMS-UK organizing staff. I hope to be visiting you again next year.
Rato Marczak
© 2016