IPMS/UK
National Convention - Scale ModelWorld 2017

Where:

Telford International Center, Shropshire, UK.
When:

November, 11-12, 2017

Who:

Southern Modelers Express Machine (

actually your editor and fellows Sandro Tomasetto

& Jerônimo Teixeira

)
The Show
We did it again. And again we headed to Telford not thinking only about models, but also on so many museums the British land has to offer to any enthusiast. We visited RAF Duxford, RAF Cosford, and the Tank Museum at Bovington... Stay tuned for new walkrounds here.
This report, however, is to show you a glimpse of how Scale Model World was this year (2017). As usual, the show had all three halls of the Telford International Center crammed with traders, club displays, kit swaps and everything a modeler would expect from a hobby heaven. We had the opportunity of wandering by the halls of TIC on Friday, before the official opening, and that gave us a different perspective of such a huge space, before hordes of modelers invaded the place on Saturday. We spent the whole Saturday visiting as many traders and club stands as possible, and on Sunday we could check the competition area less hungry for goodies...
As in last year, if the number of traders, IPMS branches and SIGs was overwhelming, I was a bit disappointed by the number of entries in the competition. Before proceeding to the photos, I'll leave you with some view of the messy heaven. Of course I haven't tried to take pictures of everything, I'll just highlight some things that are still fresh in my mind. Several traditional vendors attended the show, as expected, as well as famous and not so famous manufacturers.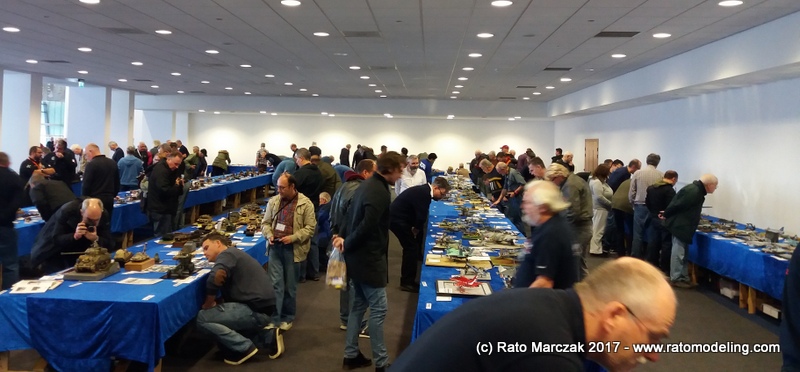 I was impressed by the sheer number of new releases in all scales and subjects, but I will refrain myself to try to write a bit of every and each one of them simply because I cannnot remember everything! HpH impressed everyone with the new B-36 in 1/48 and they have a 1/32 C-47 in the works! Revell promised and delivered a nice and cheap P-51 in 1/32. Tarangus will grace us finally with a new Viggen in 1/72 scale, and of course Tamiya entered the world of Me-109Gs... DSPIAE shocked me with their circular mask cutter and pliers (both really expensive!) and AK surrended itself to the realm of water soluble lacquers. The new Airfix 1/72 Phantoms were there, as well as their Walrus and Blenheim. Two of my favorite companies, Silverwings and Lukegraph, were not present this year, unfortunately...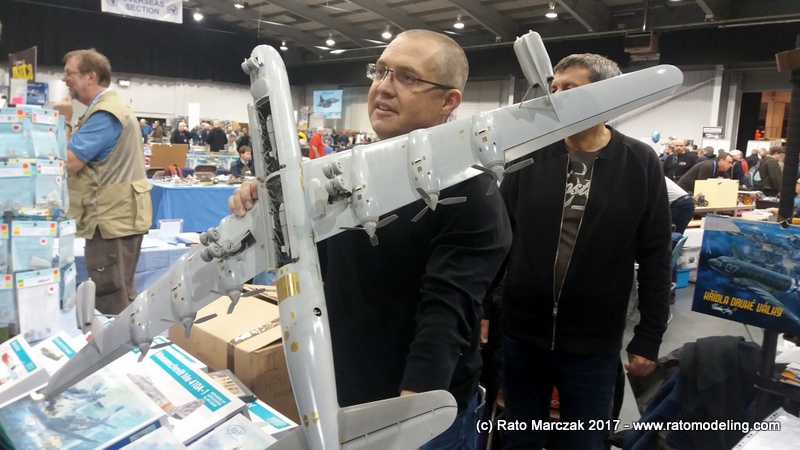 Zoukei-Mura showed their new 1/32 Ki-45 and the Henshel He-129, the first in full interior detail. They also brought the first 3D printed trials of their upcoming Fw-190A-4 in 1/32 scale.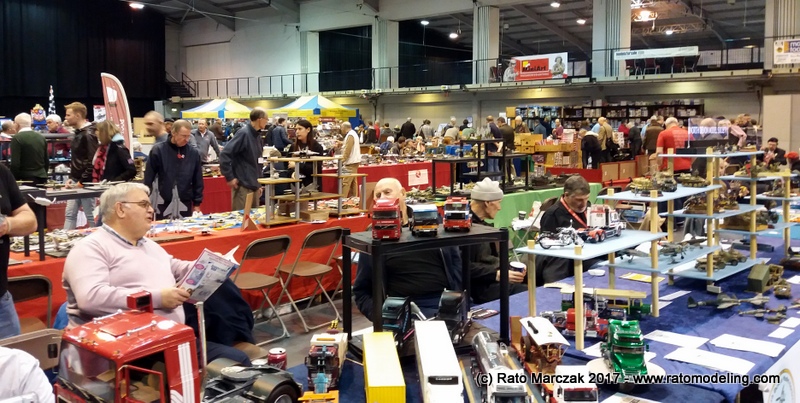 This time I didn't get much time for talking, which I regret immensely, but it was great to shake hands with Roger and Dave from Whirlybird, Jay Laverty at AK, the nice folks at Large Scale Planes SIG. I missed the Missing-Lynx meeting organized by Paul Giles - sorry for that. A special thanks to Mr. Arthur Bentley, good to meet you again so well, Arthur. Another great surprise was to find Bill Devins, from my IPMS-NJ time, who came all the way from USA.

The big winner this year was Peter Castle with his Aluminum skinned Spitfire Mk.XIV. Peter is the owner of Airscale, and I had the opportunity to chat for quite a while. It amazes me how the best models are made of such simple techniques. He is not in the mood to finish his F7F, and I can give you a hint of his next project: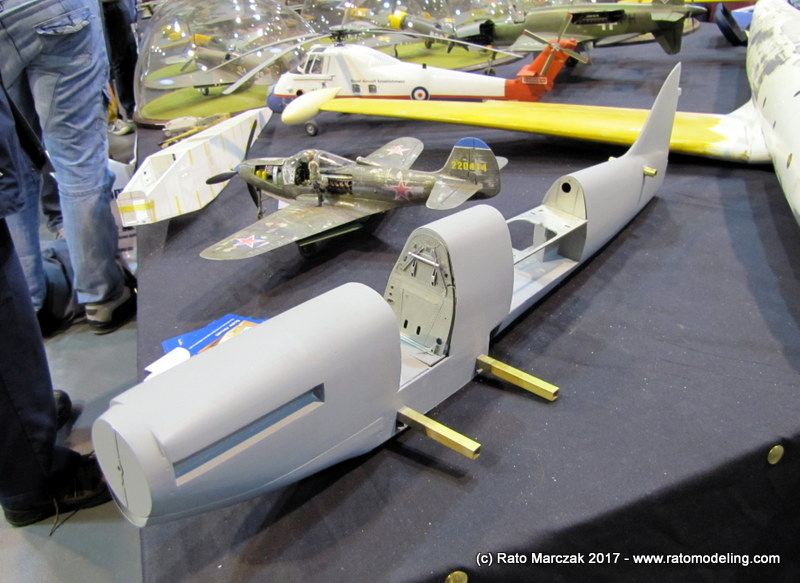 Finally, a big thank you to my friend Sandro for leading the whole mission... You are the best, brother! And Jerônimo for so many good chats, jokes and walks...
Now, the photos. I organized them loosely in 8 groups, so be warned that all links below contain entries of several sub-categories. Here you will find almost 430+ photos, therefore I missed many entries, but I tried to take photos of most of the winners. Enjoy:
Here is the
complete listing of the winners
from IPMS-UK site. National championships:
SENIOR NATIONAL CHAMPION: Spitfire Mk.XIV 1/18 by Peter Castle
JUNIOR NATIONAL CHAMPION German Submarine Type XXVII B Seehund by Paul-Luca Kempeni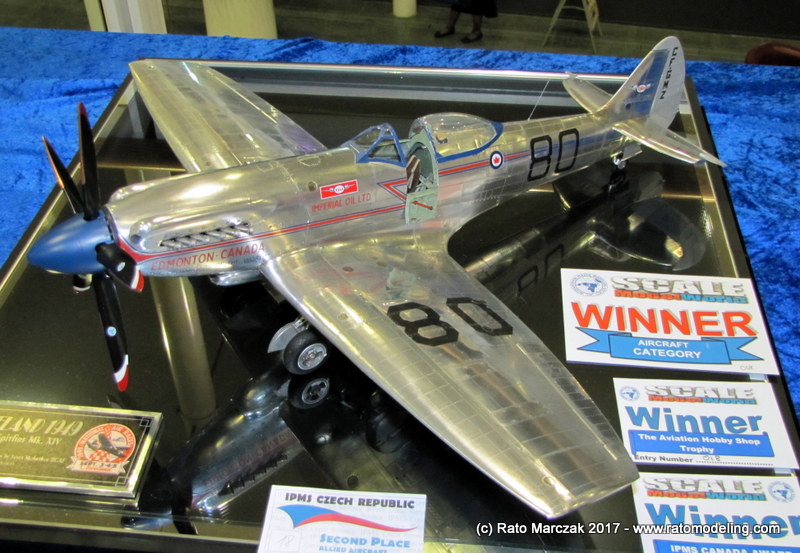 The category winners were:
AIRCRAFT Spitfire MkXIV by Peter Castle
MILITARY VEHICLES Scammel Pioneer Ian by Barraclough
CIVILIAN VEHICLES Alfa Romeo Giulia GTA 1300 Junioe by Ricardo Pedro
FIGURES Pushing forward to Arnhem by Craig Spencer
SHIPS LCS-1 USS Freedom by Jan Terstappen
SPACE/SCI-FI/FANTASY Stephenson Bicycle 0-2-0 by Ian Tranter
DIORAMA LCT(4) landing Craft Tank by Ian MacGonagle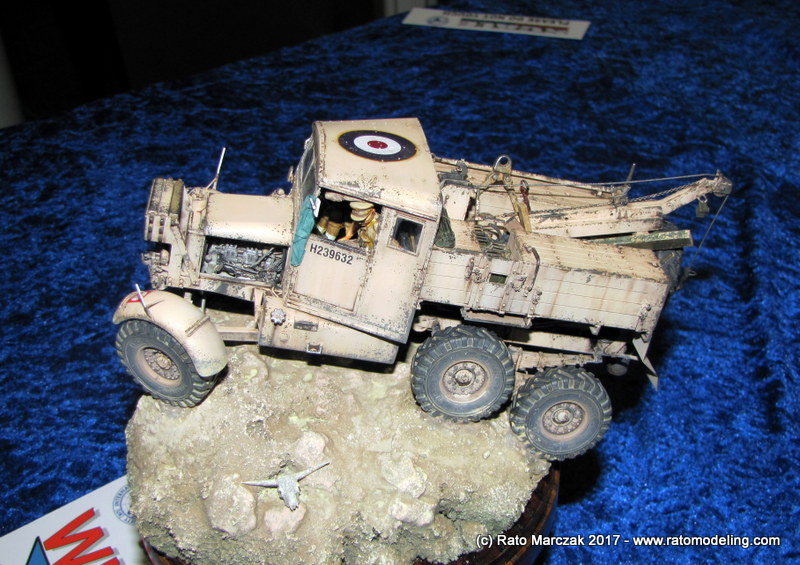 Congratulations to all in the IPMS-UK organizing staff. I hope to be visiting you again next year.
Rato Marczak
© 2017