IPMS/UK
National Convention - ScaleModel World 2018

Where:

Telford International Center, Shropshire, UK.
When:

November, 10-11, 2018

Who:

Southern Modelers Express Machine (

actually your editor and wingman Sandro Tomasetto

)
The Show
And that particular weekend was so eagerly waited that we have to find something more interesting than building models to do in the previous days. Not difficult when visiting England. We have chosen to visit The Brooklands Museum, the FAA Museum and re-visit RAF Cosford Museum. All three would make any trip from South America worth...
But SMW is growing - my personal impression - every year. The traditional three halls of the Telford International Center are becoming more and more crammed with traders, club displays, kit swaps and everything a modeler would expect from this hobby heaven. The entrance lines are longer year after year. Every season I head to the show thinking "This year I really don't have many things to buy...". Yeah, sure. Well, besides the fact that I left my whole salary in not really so needed goodies, what a show it was.
Again, we had the opportunity of wandering by the halls of TIC on Friday, before the official opening, and that gave us opportunity to take photos, talk to industry delegates, vendors and the IPMS team before the army of modelers that would invaded the place on the next morning. This year I did a single walk-around the competition tables, took photos and returned to the vendors area. This report is to show you these photos and share my impressions of what is probably the largest plastic modeling show in the world.
It is becoming cristal clear to me that every year, in spite of the great number of traders, IPMS branches and SIGs, the number of entries in the competition is not proportional. If you count the club tables that is another story, but many of them are repetitions of the previous years.
Of course I haven't tried to take pictures of everything - it is impossible, I'll just highlight some things that are still fresh in my mind. Several traditional vendors attended the show, as expected, as well as famous and not so famous manufacturers. More importantly, I had the opportunity to talk to several friends, make new ones and return to Brazil with no serious regrets about anything. And I own a big thank you to my friend Sandro for enduring my mood for the whole week.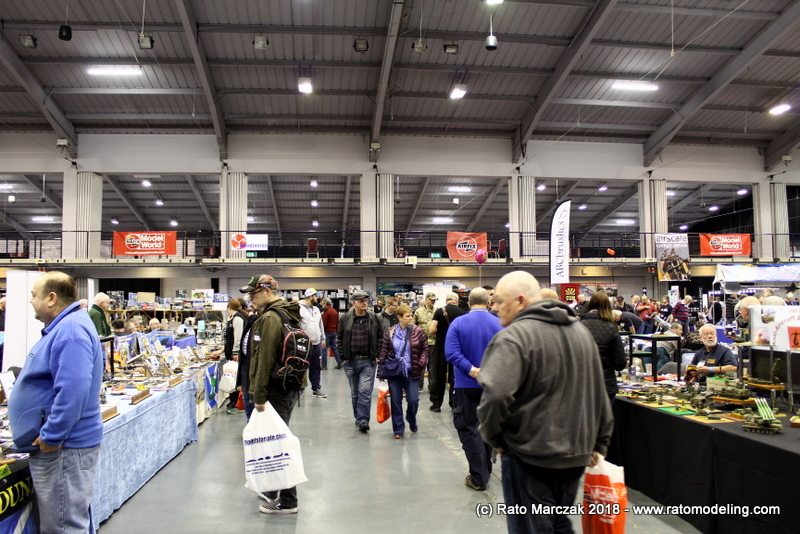 The News
Modelers have been waiting for the disclosure of a number surprises by some major manufacturers. Other subjects were not really new, but everyone wanted to see them in the flesh. That was the case of the new Tamiya Spitfire in 1/48 scale. A half dozen of them were there, for reviewers, and Tamiya had a stand with one being assembled during the show. It was interesting to check out the solution they found for the landing gear alignment.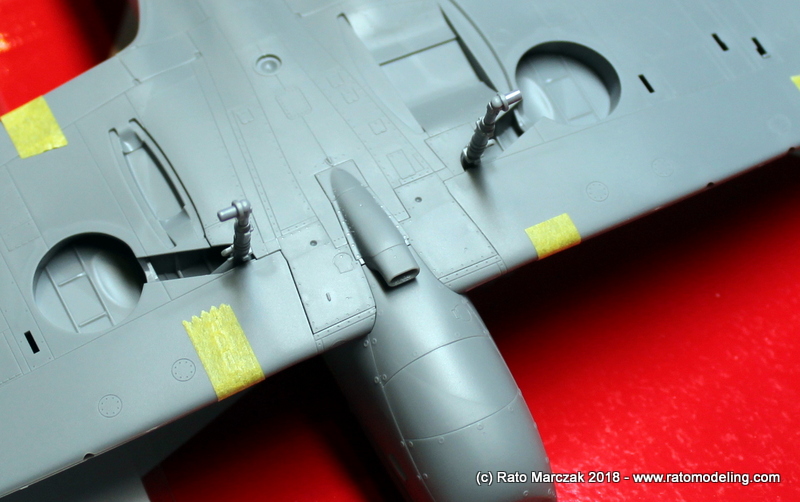 HpH surprised everyone with the new 1/32 C-47. It is a big, impressive kit, and at mere £575,00, it better be. The texture of the surface details seems almost unrivaled.
The real show stopper was the Wingnut Wings Avro Lancaster in 1/32 scale. After 9 (nine!) years of development, it seems to be one of the most fabulous plastic models ever made. WnW really raised the bar here with the stressed skin effect just right, at the correct places, and looking really irregular - not manufactured defects. This feature may be a real breakthrough in the plastic model industry in what regards large scale models, but I know it is something that will divide opinions. The WnW development team told me the release date is not connected to the Dambuster movie premiere, and that the model and the movie have not shared any CAD or CGI. Anyway, the model which impressed me the most was their Handley-Page O/400 in 1/32 scale, almost as big as the Lancaster, a test-sample was there equally impressive.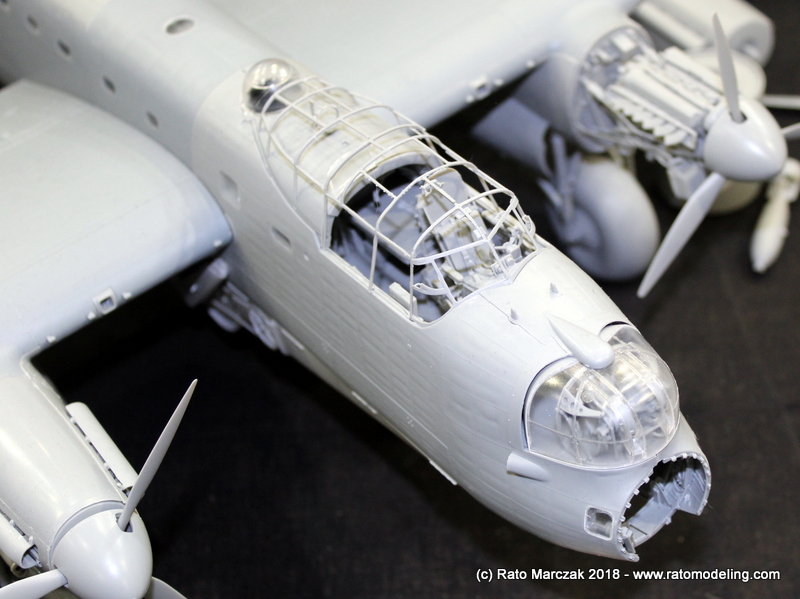 A couple of things about the new WnW Lancaster. First, it will not have the fully detailed fuselage interior, like its HK brother (see below). But don't cry yet because the kit comprises 1000+ parts. Secondly, WnW said that the nose section will be a separate kit. Now that's a great idea! Third, the model apparently will come with one single engine, but more can be acquired as individual kits from WnW. And last, contrary to several rumors, the release date will be end of 2019, having nothing to do (I repeat: nothing to do) with the release date of the
Dambuster movie next year. Or so they said...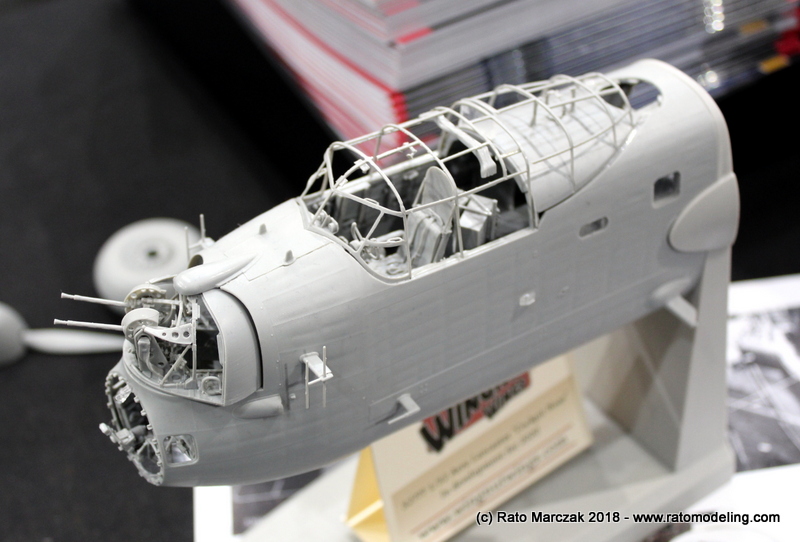 It is not every day that you see two Lancasters in 1/32 scale, but that was what happened with HK Hobbies showing their version of the iconic bomber. It is a very good model, too, but simply not on par to the Wingnut offering. On the other hand, you probably will buy two HK's Lancasters for the price of a single WnW's one. Different prices, different details, different markets... Relax, both companies will survive.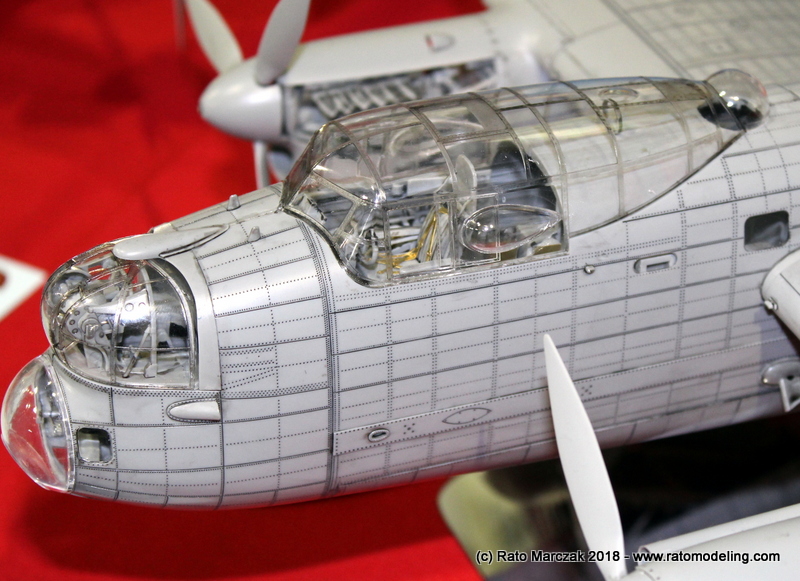 Revell booth had some interesting news as well. They promised a new PBY Catalina in 1/72 for November, and the F4U-1B (correct denomination), the British version of the F4U-1A. Still in the small scale, their new Bronco is deceptively the old Academy (edited 19.nov). They will also rebox Italeri's Mirage in 1/32 and promised a new F-18 Hornet for December, also in 1/32. Another interesting release for November is the Antonov 225 in 1/144 scale... the thing is huge!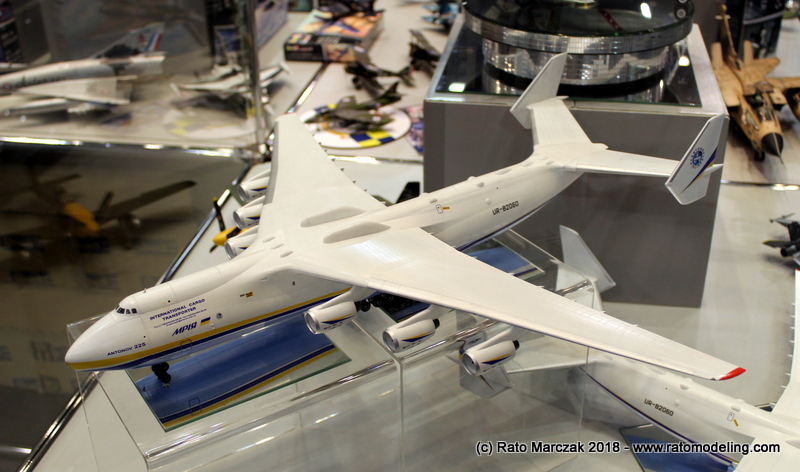 Zoukei-Mura showed their new 1/32 Ki-45. They brought only 50 samples and your editor got the 16th. The model is fabulous and the box is really huge - ask me how I know. Their Hs-129 is also ready. It will come in three different versions in the spring of 2019. Z-M also brought the same 3D printed trial of their upcoming Fw-190A-4 in 1/32 scale of the last year.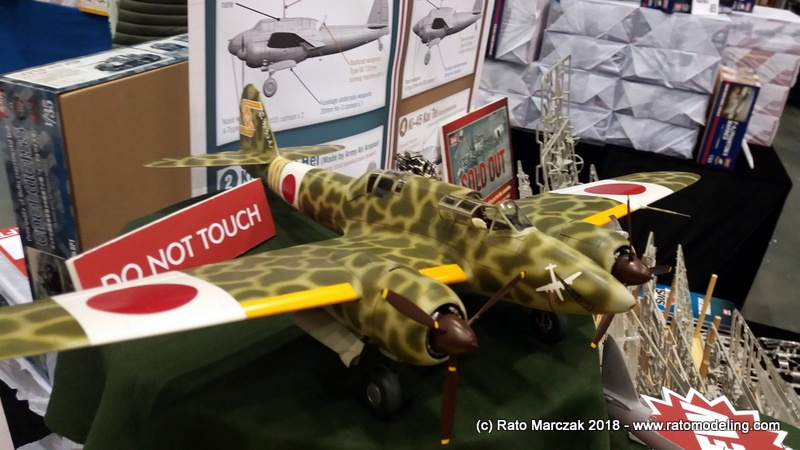 The new Airfix big model emerged on Saturday at 11AM sharp surrounded by a big crowd. A F6F-5 Hellcat in 1/24 scale. It is a massive model, the engine alone comprised of 80+ parts. Airfix showed evolution since the Typhoon, and perfected the stressed skin effect - maybe a tad too perfect, mind you. The model has been under development for almost 4 years, and the choice of a Hellcat over the Corsair was due to the presence of the Tamiya Hog in 1/32. After what my friend Sandro was able to unveil, there will be no dash-3. Airfix also disclosed their new Bristol Blenheim Mk.I, Walrus and Messerschmitt Me-109E, all in 1/48 scale.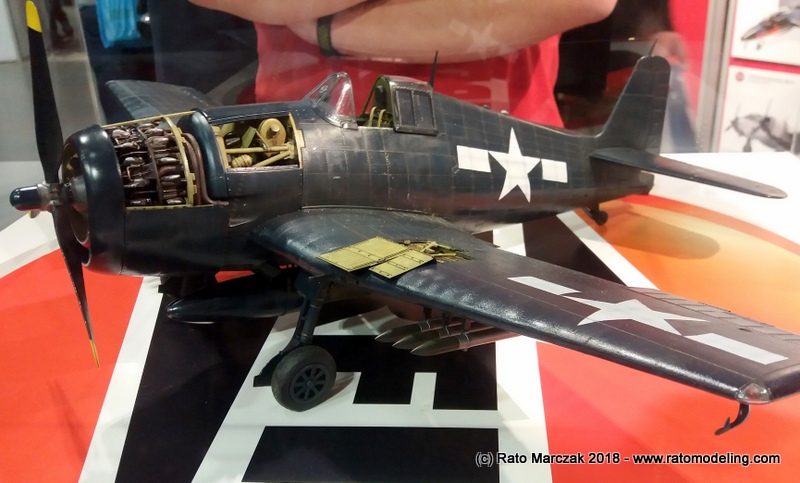 Eduard made the official release of their Tempest in 1/48 scale - what a gorgeous kit. Tarangus has not brought their Saab Viggen in 1/72. I think it is not ready yet. Iconicair released a Supermarine Attacker in 1/32. The French company Da Mo displayed their new Peerless Truck in 1/35 - a fantastic resin gem that will cost you a kidney. And the list is almost endless to put here. We had surprises in every imaginable field of our hobby - tools, decals, figures, dioramas, supplies, new companies... It was a nuclear blast!

Again, I didn't get much time for talking, which I regret immensely, but it was great to shake hands with Giovanni Cervo, Marcos Bonfim, Roberto Lau, Javier de Anca, Roger at Whirlybird, Mr. Arthur Bentley, Bill Devins, Vini Pompeo, Pierre Baudru (slow down, man!) and so many others whose names are too many to remember. I particularly missed Mike Dobrzelcki, which was there and I didn't know until after returning (sorry brother!). I also didn't find Peter Castle (last year National winner) to know the whereabouts of his Aluminum skinned Firefly in 1/24... Next year, maybe?

The competition

Now, the photos. I organized them loosely in 9 groups, so be warned that all links below contain entries of several sub-categories and sometimes from the club tables. Here you will find almost 730 photos, therefore I missed many entries. Enjoy:
The
complete listing of the winners
will be published on the IPMS-UK site. National championships:
SENIOR NATIONAL CHAMPION: Oeffag-Mickl G6, G-Series Flying Boat in 1/48 scale by George Tenediotis.
JUNIOR NATIONAL CHAMPION: World War I Mark IV Male Tank in 1/35 scale by Alex Bienek

The 1/48 NatuOeffag-Mickl G6 of the national champion was really good. A work of art at some places. It was nice to see a 1/72 scale Skoda T-11 winning the AFV category. It helps to prove that size not always matters. The other winners were ok, too, but not as interesting, in my opinion. So I guess the BoS is in good hands, and deservedly.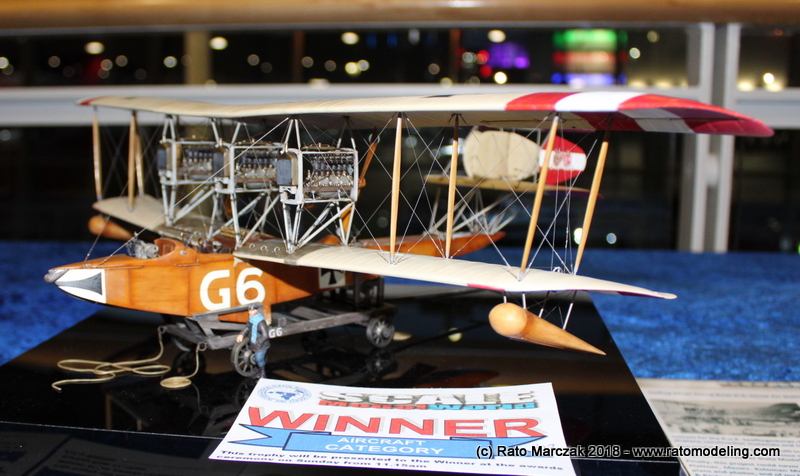 Congratulations to all in the IPMS-UK organizing staff. I hope to be visiting you again next year.
Rato Marczak
© 2018