December 8th, 2011 modeling club meeting
| | |
| --- | --- |
| Where: | Styrene Cave, Porto Alere, Brazil. |
| When: | December 8, 2011 |
| Who: | Southern Modelers Express Machine |
| Why: | Booze, new kits, new jokes and modeling... |

I guess this was our last club meeting of 2011. We arranged some snacks and drinks and the members started to arrive. Not many, unfortunately, but enough to leave everything set in the club for the next year.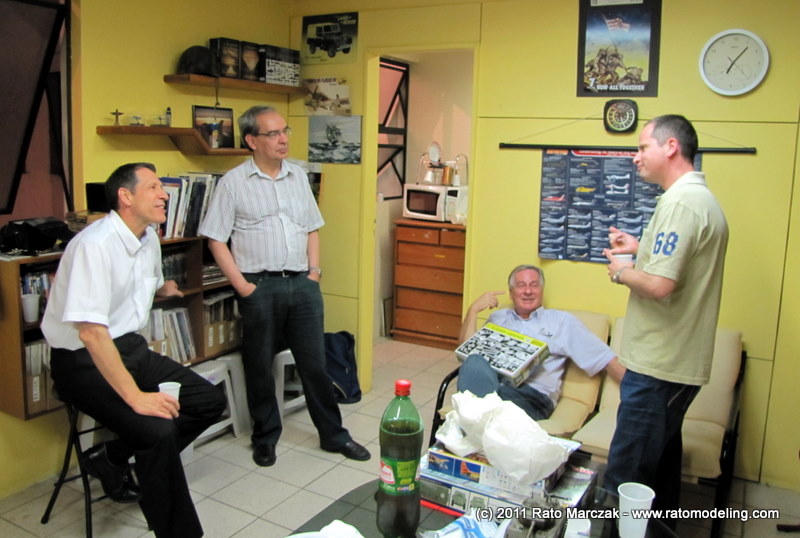 Bradley showed his latest "Shermito". Now, is this guy doing miracles with old kits or what, eh?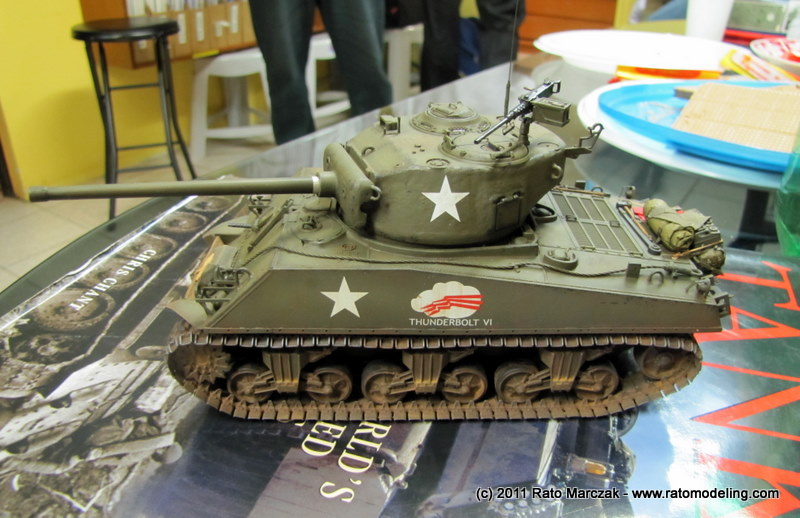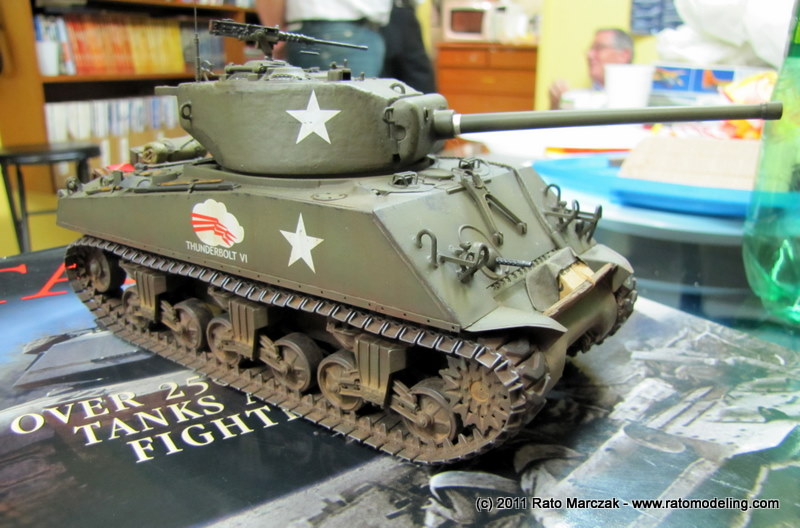 Here is a happy, somewhat drunk Vieira, posing like if the model was his. By the way, believe me or not, when I arrived there he was actually working on a Bell UH-1D in 1/35 scale... Who would guess that?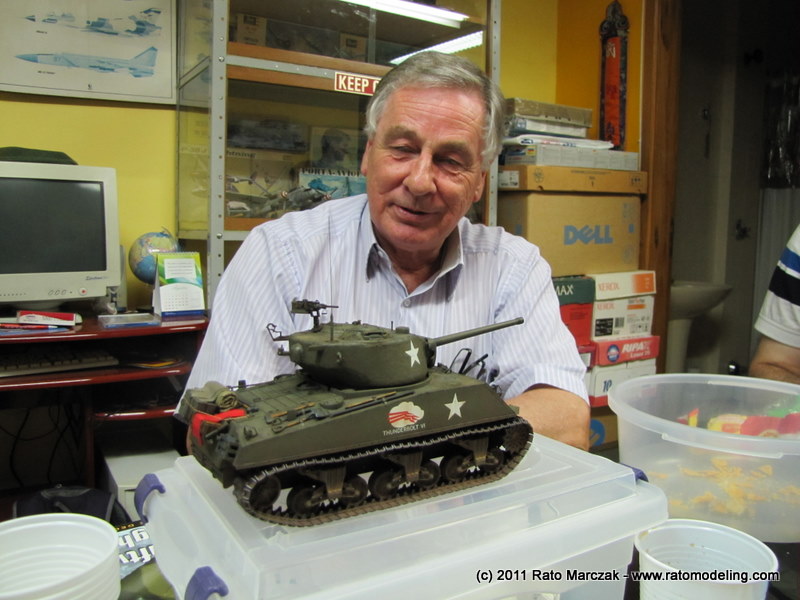 We had a good selection of kits and books on the table, but unfortunately I haven't taken pictures of everything: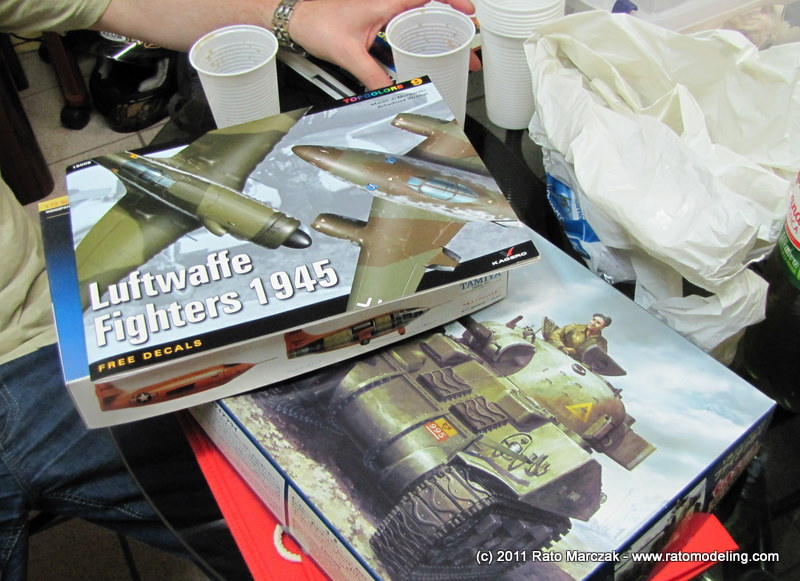 Jerônimo brought a good assorment of 1/72 AFV models and figures. I can't even remember some of the brands. Good stuff: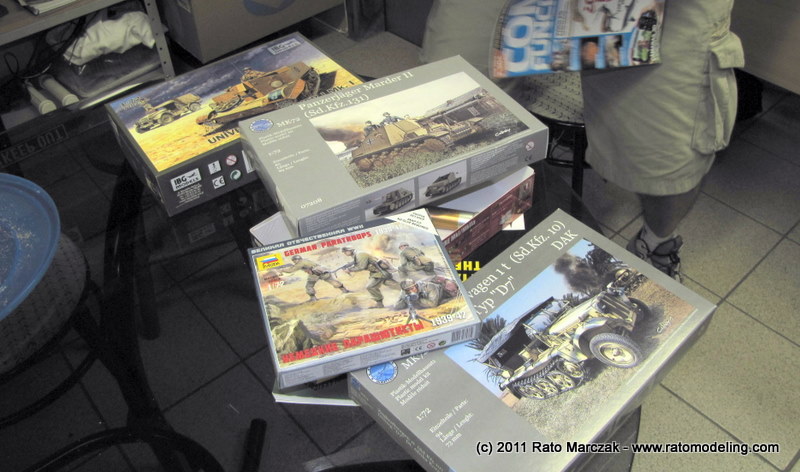 ... and directly from Portugal, my friend Carlos Oliveira sent the latest Airfix Spitfire in 1/72. Yes the panel lines are a bit overdone, but the kit is very well molded, and includes a two blade Rotol propeller as well as the unarmoured windscreen. Time to think of building early Spits...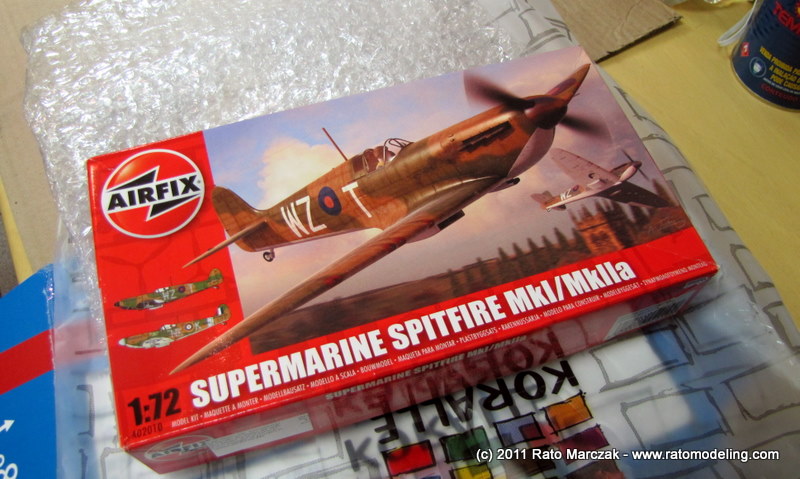 Other interesting items brought by Jeronimo are these tiny guns, probably cast by lost wax. You can't belive the amount of detail in these little marvels... and so small
: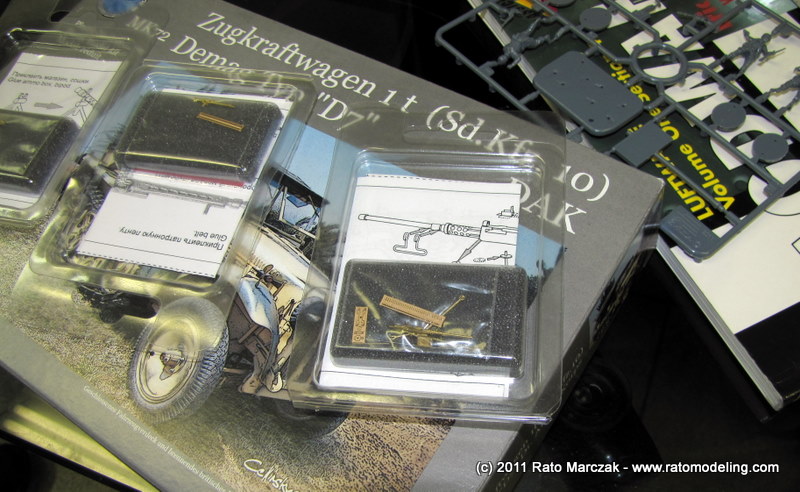 Sandro showed his "Pride of Lodi" again. Always good to see his models, let alone this one:
And Fabricio never fails in bringing something different in. Check out this mongol warrior or whatever it is... He is bad, very bad.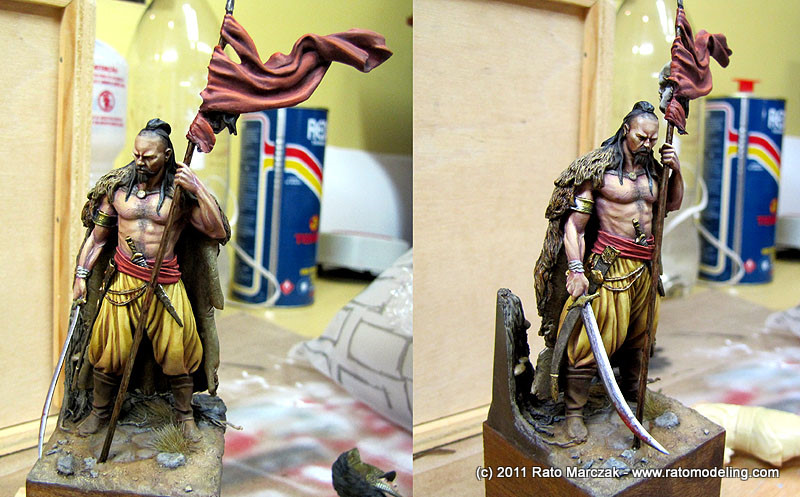 He also showed us his technique of reproducing highlights using only an airbrush. The highligths you see in the photos below were produced by airbrushing a lighter mix of the base color through a Revolution gun at the correct light angle. Amazing: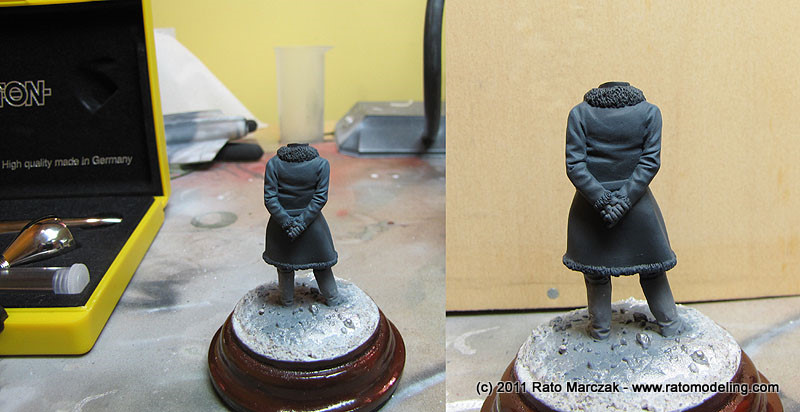 Cristian and André "The Boxman" had a funny discussion about the former's Fine Molds Me-109G in 1/72. I don't have a clue of what they discuss so much, it looks good to me: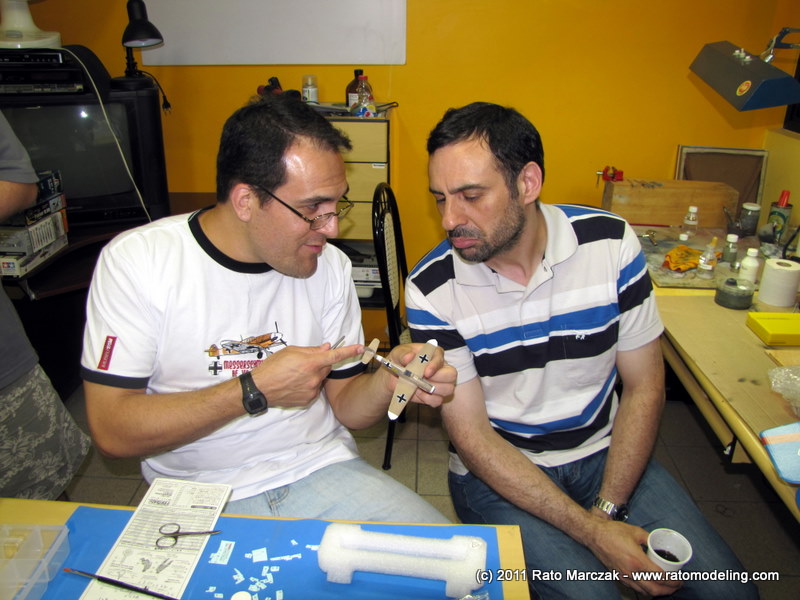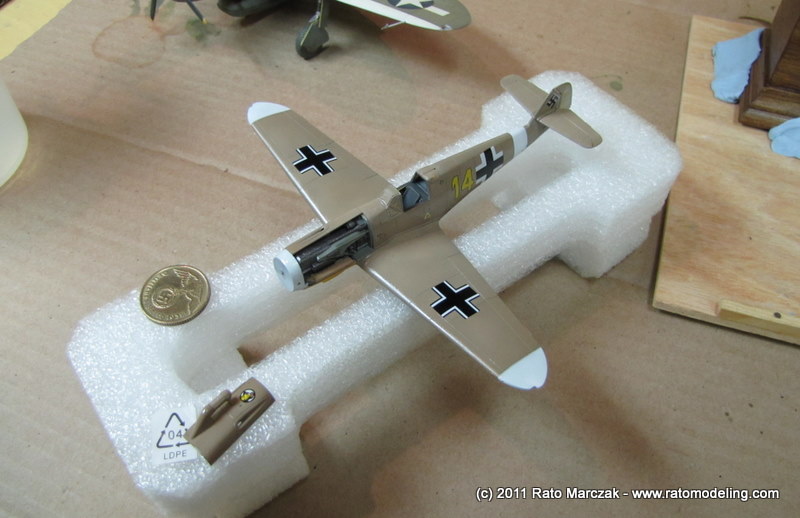 Cristian applied some decals during the meeting, but The Boxman didn't seem to agree with something, go figure: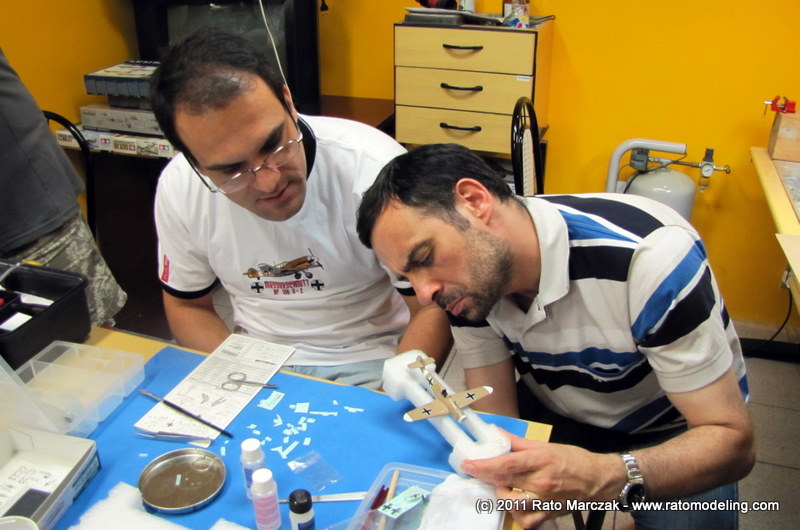 Meanwhile, the tireless (besides his tired face) Rodrigo managed to paint a few parts of his 109s. Way to go Rodrigo - and take some sleep...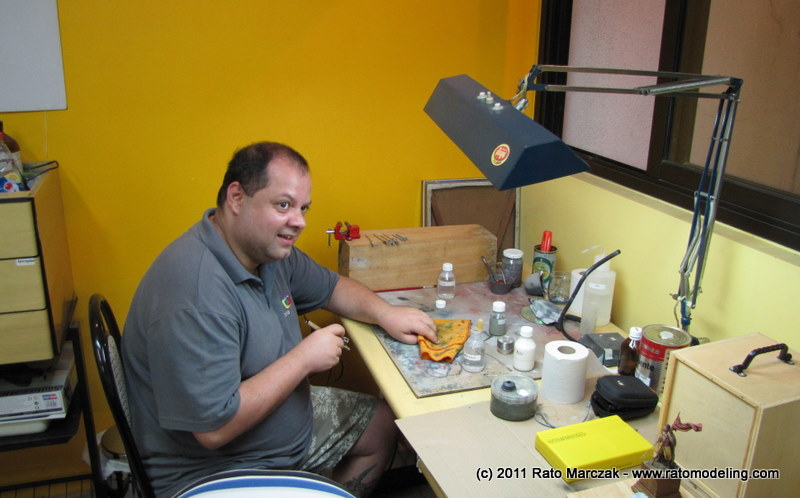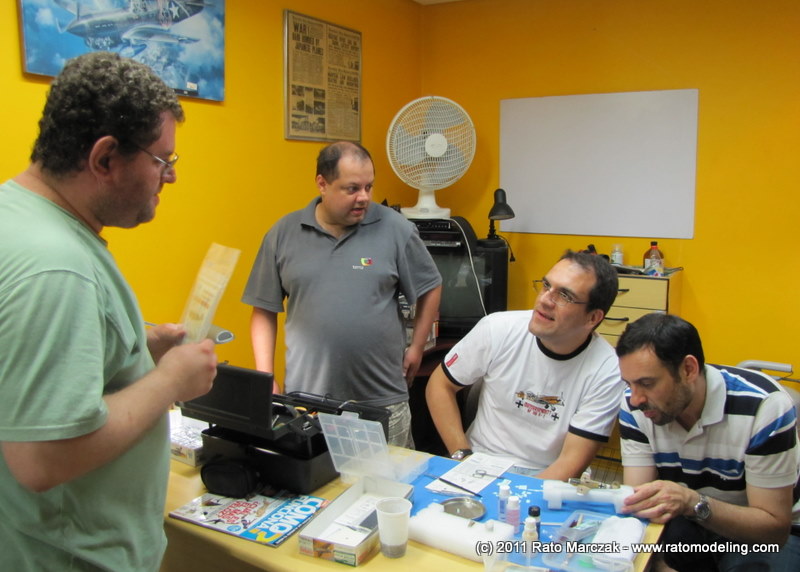 Now the official photo. Left to right, standing: Fernando, Nei, Vieira, Bruno, Blanco, Cristian, Bradley and yours truly. Kneeling, left to right: Fabricio, Jerônimo, André, Alex, Sandro and Rodrigo (Stuka wasn't interested much in the photo):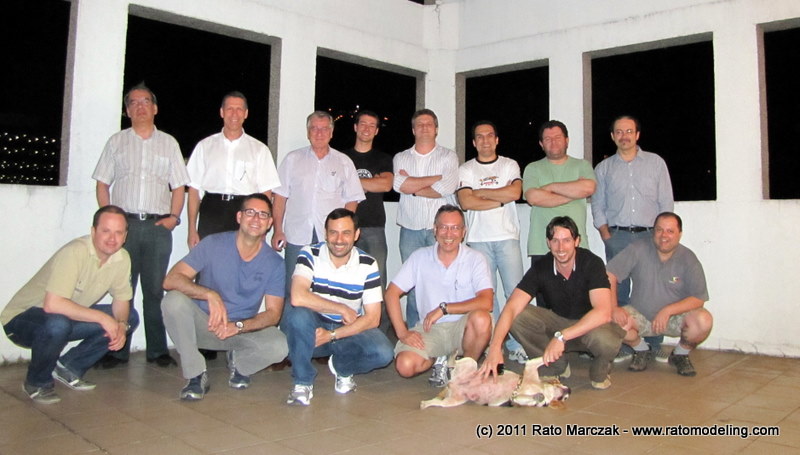 Before we finish off, let me remember you that Fabricio is organizing a workshop on figure painting conducted by no less than

El Maestro

Fernando Ruiz. Ruiz is a figure artist internationally known, having won several awards and painted box arts for many figure manufacturers. It will be a two days course held on May 5-6, 2012. The class will be limited to 25 modelers, so if you are interested, contact Fabricio.

See you in 2012...



Rato Marczak
© 2011